Nobody expects that the intensity required to tear speckles of metal from a part to be harmless to humans. But you might not expect that the reflections of the laser beam might be harmful to humans over distances as large as 80 m (263 ft). That's the equivalent of an office building with 17 floors! And since high-power lasers used in most industrial applications are invisible, safety precautions must be taken.
Different Ways to Safely Use Industrial Lasers
Sealed Laser Safety Enclosures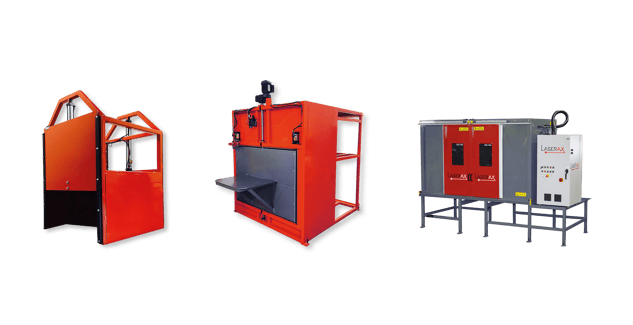 Enclosure for conveyor, free standing enclosure with rotary feeding system and with sliding doors
High-power lasers can be embedded in laser enclosures. A properly designed enclosure will prevent lasers from operating when access panels or doors are open or if no parts are present. Passersby and operators of lasers embedded in such enclosures don't need individual protective equipment. In addition, no special procedures need to be carried out. you can refer to our website for more information on our sealed laser safety enclosure.
Open-air Safety Enclosures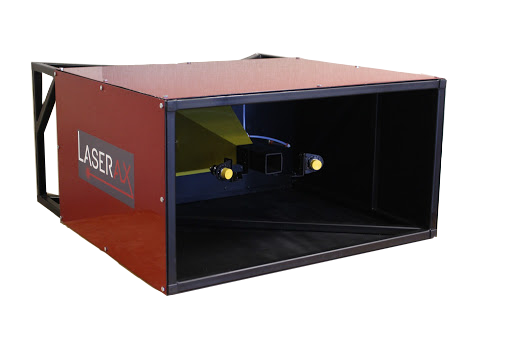 Inside an open-air enclosure with 2 sensors
When parts are too big to fit in a sealed enclosure, it's possible to use open-air enclosures and still be in compliance with international safety standards. Although the design guideline of open-air enclosures are more complex than those of Sealed Laser Safety Enclosures, they can still be easy to use. The side of the enclosure that is open is brought in contact with the part to be marked. The laser will shoot only when the seal is tight enough that no light can come out of the enclosure.
High-power Laser Used without Enclosures
Laserax mobile laser cleaner
It is possible to use industrial lasers without enclosures. However, in order to make them safe to use, personal protective equipment must be used (laser safety glasses) and access to the surrounding area needs to be controlled by interlocks or other means. Special signage is required and other procedures must be implemented to enforce the laser-controlled area. You will find more information about our mobile laser cleaning system in our website.
Read this blog post, for more information on laser safety class.
---
Laserax is a laser system manufacturer that provides efficient, innovative and safe solutions for the most demanding industrial applications. We rely on a team of laser technology experts to offer a complete range of products for laser marking and laser cleaning.
---
---
1- Rockwell, Benjamin. (Ed.). (2015).
Laser Safety Guide
(12th ed.). Orlando, FL: Laser Institute of America, 50 p.