Improving process control and traceability with laser marking

Laser Marking to Improve Process Control and Traceability
Arick Kaschalk of Visi-Trak talks about the compelling uses of laser marking in the die-casting industry. Have a listen to learn more:
The arguments in favour of improved traceability
Traceability and process control for die‑casters
Laser direct part marking in the die-casting industry
The future of traceability and process control

Latest blog posts

In this post, we demonstrate the laser marking of aluminum parts in a Class 1 laser safety enclosure. The enclosure is equipped with a revolving door loading mechanism. It features a lot of options and is highly automated; it was manned by the same robot that serviced the die-casting machine of our customer.
Learn more
Industrial lasers can be used safely when embedded in a Class 1 laser safety sealed enclosure. Laserax's enclosures are designed with all the engineering control measures required so that operators and passersby can remain safe without personal protective equipment or special training.
Learn more


New videos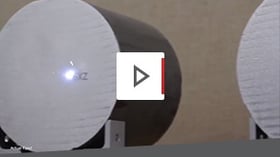 In this short video, you can see Laserax laser marking system as it engraves information on moving parts. The width of the laser marking field allows the integration of lasers on fast moving production lines.

Our laser technology experts are ready



to respond to any questions you may have.