Laserax a été fondée en 2010, mais c'est environ 5 ans plus tard que la compagnie de Québec prend un tournant pour devenir l'entreprise de 40 employés que l'on connaît aujourd'hui.
Sortir la technologie de marquage au laser du laboratoire
De grandes alumineries installées au Québec (Rio Tinto, Alcoa et Aluminerie Alouette) ont contacté les fondateurs de Laserax, Alex Fraser et Xavier Godmaire, pour leur demander de développer un système de marquage au laser dans le but d'assurer la traçabilité de leurs produits : des lingots et des gueuses d'aluminium.
Au départ de cette nouvelle initiative, Laserax a pu compter sur le support du Centre d'optique, photonique et laser de l'Université Laval, dirigé par M. Réal Vallée, et sur l'expertise laser des fondateurs, gradués du doctorat et de la maîtrise en technologie laser de l'Université Laval.
Vous pouvez en apprendre davantage en lisant l'article de M. Gilbert Leduc dans le Soleil du 9 mars 2016 : Xavier Godmaire et Alex Fraser (Laserax).
Se spécialiser dans un domaine technologique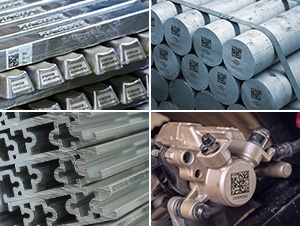 Marquage au laser pour traçabilité: lingots, billettes, extrusions
et pièce moulée sous pression
Xavier Godmaire, président de Laserax, indique au journal Le Soleil, « On veut être les meilleurs dans un domaine précis. Nous sommes aujourd'hui présents dans les plus grosses alumineries au monde. Nous collaborons aussi avec des producteurs d'acier, de zinc, de plomb et de magnésium ».
« Notre plan de match a fonctionné. Nous sommes passés d'une entreprise qui offrait plusieurs solutions industrielles à une compagnie qui se spécialise dans la traçabilité des métaux. À l'époque, c'était risqué », explique également Xavier Godmaire au journal Le Soleil.
Le potentiel de Laserax a été reconnu rapidement par les capital-risqueurs. En effet, Investissement Québec, Desjardins Capital et le Fonds Innovexport ont récemment injecté 10,8 millions de dollars dans l'entreprise qui rapporte plus de 70% de ses ventes de l'étranger. Une partie de ce financement servira, entre autres, à peaufiner de nouvelles technologies comme le nettoyage au laser.
Développement de nouveaux produits : le nettoyage au laser
Vidéo - Nettoyage au laser
Grâce à l'augmentation de la puissance optique des lasers à fibre, de nouvelles applications deviennent viables d'un point de vue commercial pour l'entreprise québécoise.
Les experts en technologie laser de Laserax travaillent depuis quelques années sur le nettoyage de métaux au laser. Il est désormais possible de retirer la rouille, l'oxydation, la peinture et toute une gamme de contaminants de pièces métalliques.
Pénétration de marché - Allemagne, France et Mexique
Bien que le chiffre d'affaires de Laserax provient largement de ses ventes à l'étranger, Xavier Godmaire reconnaît que la compagnie a encore du chemin à faire en matière de commercialisation internationale. « Laserax, c'est une entreprise québécoise avec un très beau produit, mais qui doit sortir de sa coquille pour devenir une grande entreprise internationale », ajoute-t-il lors de son entrevue avec le journal Le Soleil.
Actuellement, Laserax vise à ouvrir des bureaux de vente en Europe et au Mexique pour soutenir sa croissance et offrir à ses clients internationaux une présence locale.
Surmonter les défis de la croissance : main d'oeuvre recherchée
Pour atteindre ses objectifs de croissance, Laserax, compagnie qui aspire à devenir un fleuron québécois, devra augmenter ses effectifs actuels, soit à plus de 70 employés, d'ici la fin de l'an prochain.
Laserax est actuellement à la recherche de concepteurs ou conceptrices mécaniques, de techniciens ou techniciennes en automatisation et d'ingénieurs ou ingénieures électriques. Pour consulter les offres d'emploi, visitez la page « Carrières » de Laserax.

---
Sources :
Gagnon, J. G. (21 octobre 2018). Laserax - traçabilité des métaux: Se spécialiser pour mieux croître. Récupéré le 23 octobre, 2018, à partir de https://www.lesoleil.com/affaires/laserax--tracabilite-des-metaux-se-specialiser-pour-mieux-croitre-c608a428b85ed09c901acdfa8b5211de
Leduc, G. (10 mars 2016). Xavier Godmaire et Alex Fraser (Laserax). Récupéré le 23 octobre 2018, à partir de https://www.lesoleil.com/affaires/xavier-godmaire-et-alex-fraser-laserax-ffeca4a63d69f1e7a68881783bfe1d7b
Posted by Normand Lemieux

Normand is a well-rounded and autonomous marketing professional with a recent specialization in web marketing. He thrives to share experiences, to apply knowledge, to learn new things and get stuff done.
LinkedIn
Twitter